European Interior Design Fairs
This fall, Houzz's international team of editors was busy scouting fairs all over Europe for the top trends coming your way in 2019. Whether it was Helsinki Design Week, Formex in Stockholm, Decorex International in London, Maison et Objet in Paris, Habitat Valencia in Spain or Cersaie in Italy, we were on the scene turning over every rock (or, at least, every stone-look tile) for the next big thing in interiors. What ideas are rocking the European design world north and south, inspiring Nordic carpenters, Mediterranean tile manufacturers and all creative minds in between? And what local themes deserve a wider audience? Here are some highlights.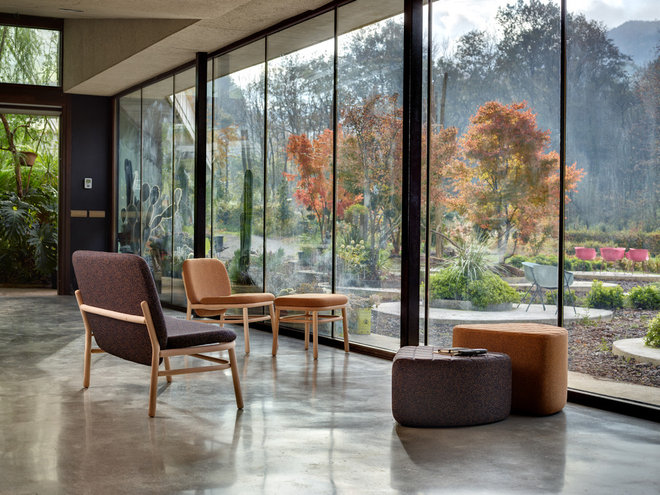 Autumn Colors Steal the Show
2018 has been all about earthy colors, especially reds, yellows, tans and greens. Now this palette is taking on a distinctive autumnal tinge, ranging from dusky pink to burnt terra-cotta via some pretty frisky orange.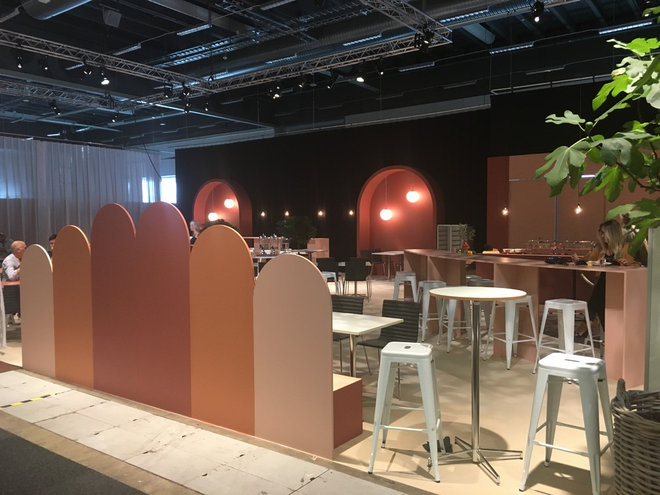 The organizers of Formex (Stockholm; Aug. 21-24, 2018) also used the same color scheme in the fair's own infrastructure, including this pop-up cafe.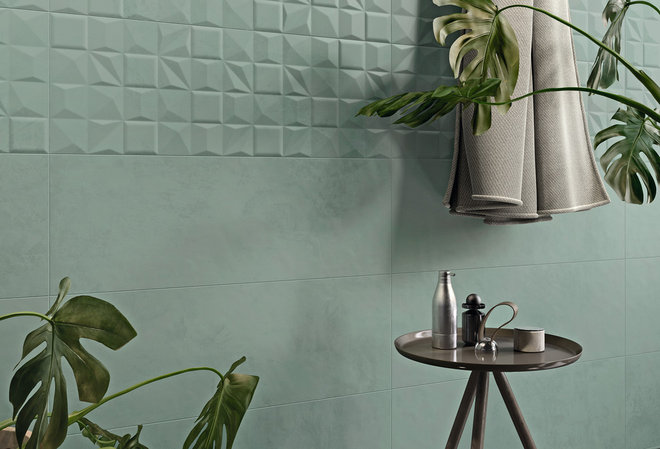 A similar palette graced bathroom exhibits at Cersaie (Bologna, Italy; Sept. 24-28, 2018), the international exhibition of architectural ceramics and bathroom furnishings. Though black-and-white tile and bathroom schemes aren't going anywhere anytime soon, sage green, marsala and pastel pink dominated colored bathroom palettes this fall. This was true not only for tiles but also for fixtures and accessories.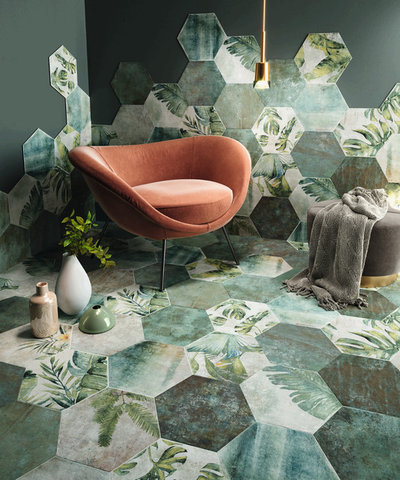 Nature Is In
Indoor plants and plant motifs have come back with a vengeance in recent years, as evidenced by our collective obsession with the ever Instagrammable fiddleleaf fig and the prevalence of plant-themed frescoes, murals and wallpaper. 
This autumn, we're seeing exotic plants make way for more local vegetation, such as bouquets of hydrangeas.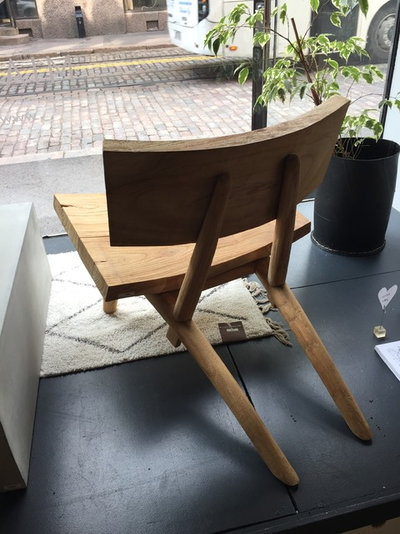 Raw Is Hot 
Raw wood also stepped onto the scene in a big way. At Helsinki Design Week (Helsinki; Sept. 6-16, 2018), raw and heavy or light and airy wooden pieces took center stage, sidelining anything in between. 
A similar trend surfaced at Formex as well, with lots of minimalist branches in tall vases, very rough reclaimed wood and worn industrial metal.
Likewise, at Decorex International (London; Sept. 16-19, 2018), a woodturner made a chair in the design hall, allowing visitors to see the level of craft and skill that goes into producing handmade pieces.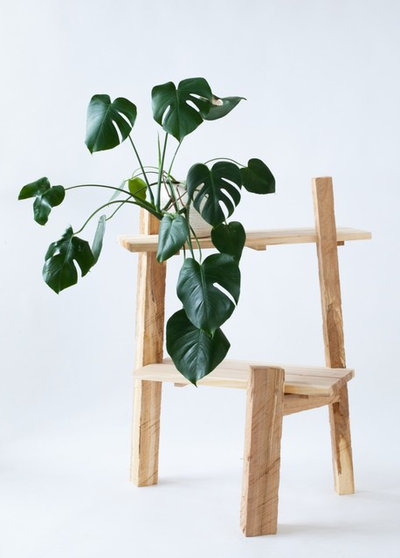 Wabi-Sabi 
Perhaps this also taps into our growing love affair with imperfection. At Helsinki Design Week's Raw/Rawka exhibition, wood from a Finnish forest met Japanese wabi-sabi aesthetics, which celebrate the beauty of the imperfect, humble, temporary and authentic, and raw wood fits right in.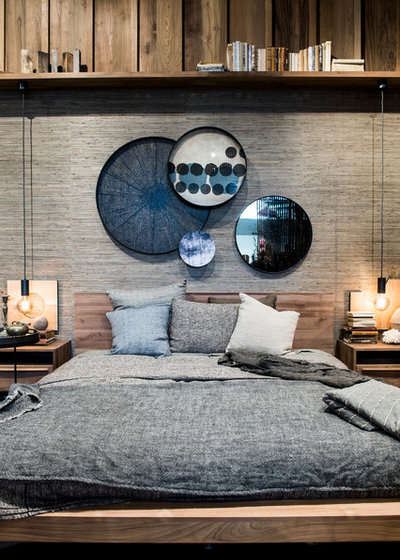 All About Authenticity
Or perhaps it has more to do with authenticity. Handmade products that emphasize craft were hard to miss at many fairs this fall. Textiles had a hand-woven look, and bottles appeared handblown.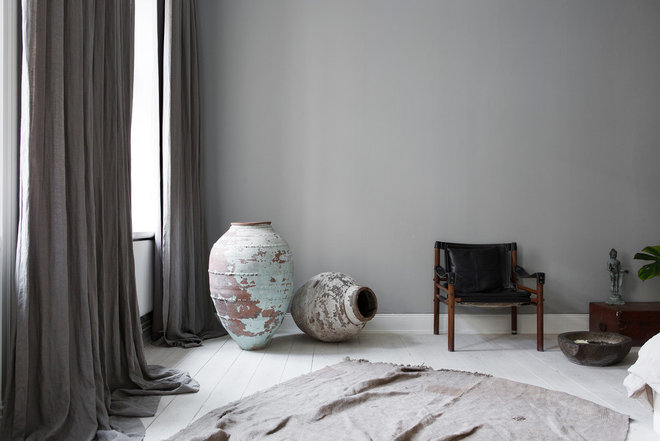 Handmade Ceramics 
Ceramics looked handmade too. They were hotter than hot at Formex, especially in rugged and handcrafted versions.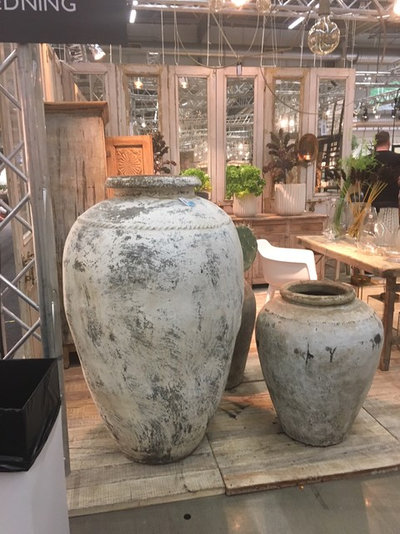 These ceramics at the fair are perfect examples: oversize with a historical look.
This was matched in Finland with the debut of oversize versions of Nordic classics like Iittala's Alvar Aalto vase.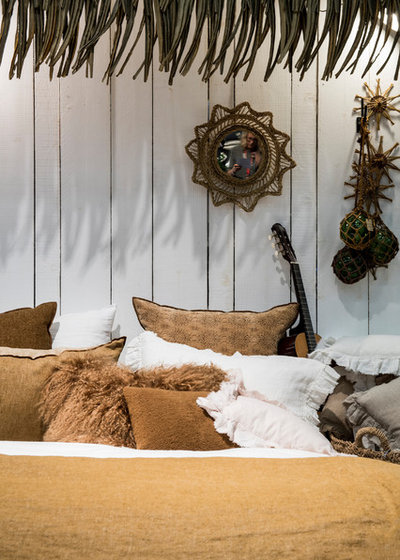 International Touches
East Asian inspiration was a hit at Milan's Salone del Mobile fair back in April, and the influence of international art and design continued to be clear this autumn. In addition to the wabi-sabi aesthetics already noted, we saw a diverse set of international influences on exhibits at Maison et Objet (Paris; Sept. 7-11, 2018). South American woven wool, charpoy benches from India, handicrafts from the Senufo people of West Africa, quatrefoil designs from Islamic traditions and origami lamps are predicted to keep exerting their pull in 2019.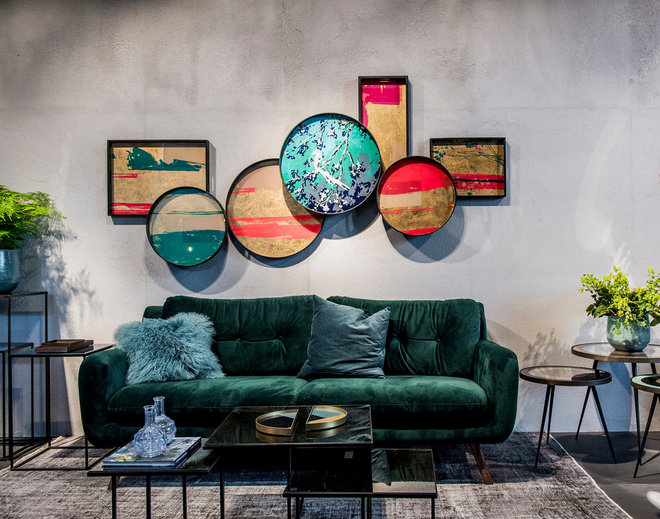 Comfort 
Comfort was also a big theme, with a lot of large padded cushions — especially on couches at Maison et Objet — and ultrasoft velvets.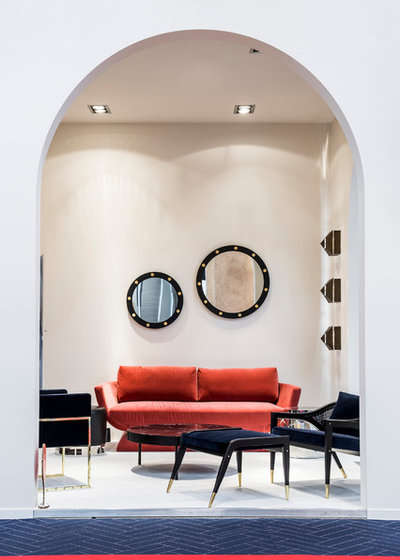 Harkening to a Bygone Era 
The influence of the past, particularly Art Deco style and designs from the 1950s, was felt strongly this autumn, appearing on wallpaper, armchairs, sideboards and other storage units.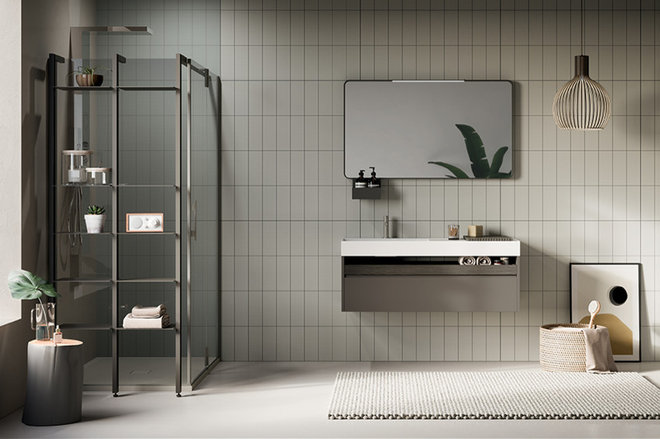 The Cersaie exhibition showed that in wall and floor finishes, too, we've come back to the classic small rectangle tile in a stacked vertical layout.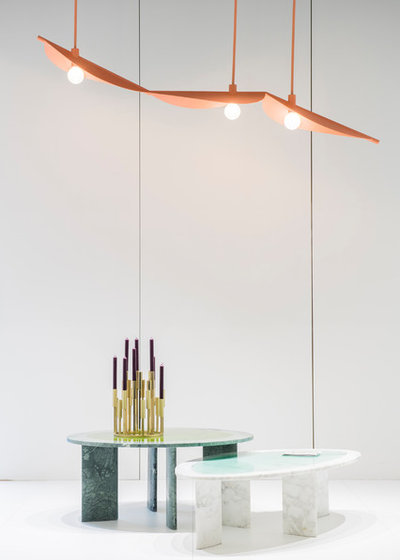 Exhibit by Carla Baz, one of the winners of the Rising Talent Awards at Maison et Objet
A Little Glitz and Glamour
Velvet continued to make an appearance on sofas, stools and poufs with brass pedestals. It serves as a vivid contrast to the imperfect and natural look discussed above. 
Green marble coffee tables on extra-thin legs also made a splash at the latest edition of Maison et Objet. 
At Habitat Valencia (Valencia, Spain; Sept. 18-21, 2018), we also saw a move toward more elegant woods, in contrast to Nordic raw wood trends. Oak has been a favorite for a long time, but we are now seeing more elegant, sophisticated and warmer woods.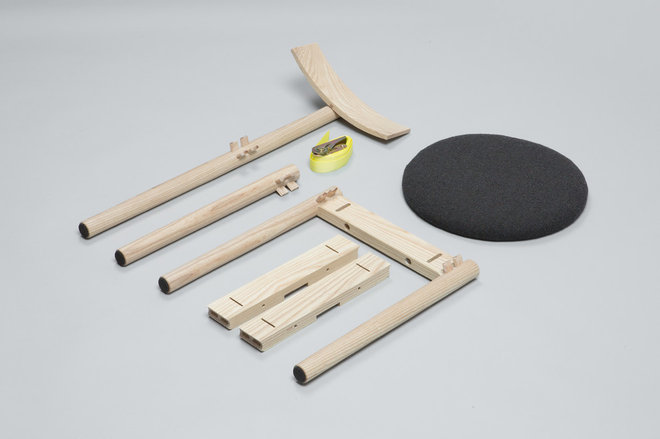 Stool: Combine, before and after assembly, from the joint exhibition by designers Antti Tuomi and Sakari Hartikainen in the Casuarina furniture store at Helsinki Design Week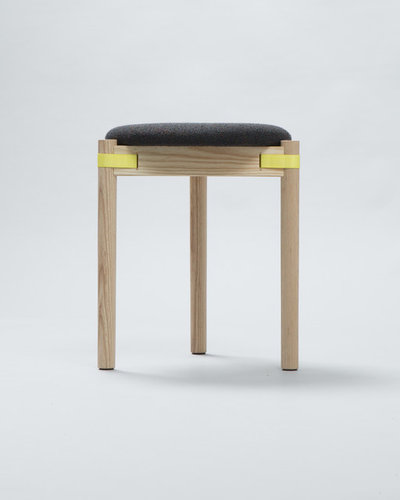 Do It — and Match It — Yourself
Squarely at the intersection of these two major movements in the design world — luxe comfort and raw, handmade imperfection — sits another big 2018 trend: customization and DIY. 
In Helsinki, we saw flat-packed self-assembly pieces designed to be put together without any tools. It's also easy to take them apart again to replace broken components individually.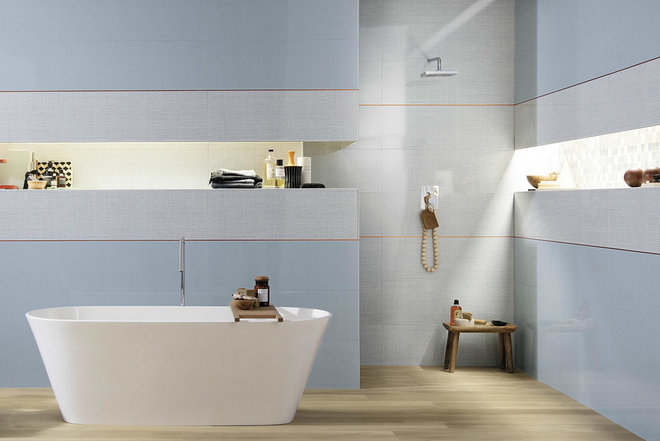 Wall tile: Pat collection in Sky (saturated light blue) and Deco Blue (dotted) by Fap Ceramiche
In the tile and bathroom world, too, companies are coming up with collections of tiles in different sizes and a variety of finishes, designs and colors that go well with one another and can be mixed and matched.
Disclaimer: This article was originally featured on Houzz.com on October 22, 2018.